Tutorials from Parole de pate
Having been off my feet recovering from surgery for quite some time last year and now again  I have probably had more hours than most people to trawl round the internet. There is an amazing amount of information and inspiration for polymer clay artists out there. I am sure you all have your favourite blogs and sources of information (feel free to post a link in the comments to any of your favourites as I may have missed some).
I wanted to share a few blogs that aren't in English with you as it took me a while to come across them and then I was put off initally by the language problem – my French is rather rusty and not that technical anyway. Then I discovered Google Translate! To start with I loaded the web link into the google translate page everytime but then I found the translate button. If you scroll down to the bottom of this linked page you can find a button you can drag to your tool bar for your language. I now have the English one on mine and if I find a site that is in a different language I press the button and it translates it (often rather ammusingly but you can get the gist – cane is translated as duck in French by google )
So check out the French blog   http://paroledepate.canalblog.com/  It is described as a 'living newspaper' of all things polymer clay. There are plenty of tutorials on this site, from artists around the globe.
In the Canes tutos archieve there are 7 pages, yes 7 pages!, of different tutorials of all sorts of canes.Polymer clay addict heaven!
They have even kindly translated some into English and these can be found on the translation__traduction page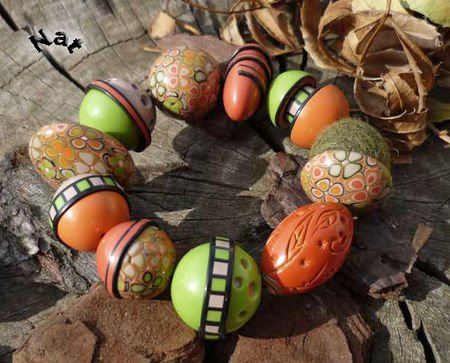 The first tutorial on that page is from Nathalie is to make these beautiful extruder flowers  as seen in some of these beads above. I have very briefly tried this with a few bits of scrap clay but without the Core Adapter as I don't have one, I replaced it with a disc with 7 holes in as shown by  Galina in her Russian Blog (again that google translate came in handy!) Here is my first attempt.
Need a bit more contrast next time but they were the colours I had out at the time
Cindy Leitz has a video which shows this technique as part of her members video library – Extruder flowers video information